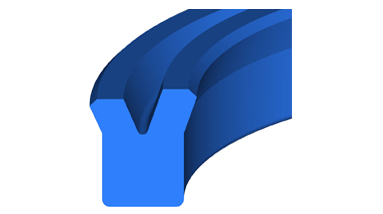 ASYMMETRICAL UNLOADED U-CUP
Unlike a standard U-cup where both seal sides have the same dimensions, this asymmetrical unloaded U-cup is constructed with both a static and a dynamic side. The dynamic side features a reduced height seal lip with good film breaking capabilities. The static side features a tall lip to increase the stability of the seal.
The asymmetrical U-cup is a single direction piston seal, which means it only seals if pressure is coming from one direction. Two loaded U-cups must be installed for dual direction hydraulic piston applications since the sealing method is single directional.
Temperature range: -50°F to +250°F
Applications: Medium duty uses such as mobile hydraulic, agricultural and general industrial
Materials: Urethane or Hytrel®
Max Pressure: 5,000 psi
Max Velocity: 3.2 ft/sec
For more informations about this type of piston seal visit here: