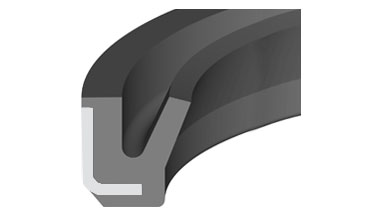 METAL CLAD
This wiper is comparable to the standard metal clad wiper, but it also features a stainless steel spring which energizes the lip. This feature enables the wiper to perform well in heavy-duty applications and tough scraping environments.
Of all the wiper products High Performance Seals offers, metal clad models are the most durable, longest lasting heavy-duty wipers. Designed primarily for tough scraping environments, the metal ring inside is pressed to fit into the gland groove. High Performance Seals offers four different types of metal clad wipers to accommodate the particular nature of different applications and the amount of wiping action required.
The stainless steel spring and unique lip design make this urethane wiper effective in severe service applications. The temperature range is -50°F to +250°F and the maximum velocity is 3.3 ft/sec.
For more information about this wiper visit Wiper Product Literature