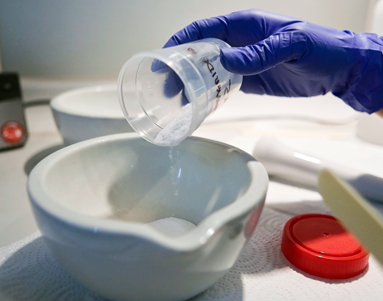 Custom Compounding
It's extremely rare when High Performance Seals does not stock an existing material. But if it happens, we'll develop one to perfectly meet your application parameters. Our engineers are experts in interpreting and understanding ASTM and SAE material specifications. In developing new compounds, the main factors that impact lead times and costs include:
Type of material
The application's temperature range
The length of exposure for material approval testing
Any special regulatory requirements, such as UL, NSF*, FDA, etc.
High Performance Seals' compound development laboratories are fully accredited. Accordingly, they can promptly supply credible test data. The list below itemizes High Performance Seals' laboratory equipment for compound development:
Tensile tester (to measure tensile and elongation properties)
Rheometer (to measure curing properties)
Specific gravity meter (to measure material density).
Temperature retraction tester (to measure TR10, a critical low temperature sealability point)
Ozone exposure tester (to determine ozone attack susceptibility)
Low temperature brittleness tester (to measure ASTM D2000 low temperature brittleness requirement)
Thermo gravimetric analyzer (analytical tool to determine compound component content)
Durometer (to measure material hardness)
Oil batch testing (to determine resistance to various types of oils)
PH probe (to measure if solutions are acidic, basic or neutral)
Multiple ovens (used in heat aging, exposure testing or compression set)
Lab mixer (small mixer for laboratory batches)
*A wide assortment of certified compounds are available. UL and NSF Certified compounds are manufactured by RT Dygert. Please contact High Performance Seals for more information regarding UL and NSF Certified compounds.